Tuscana On Yale South Tulsa Shopping Center
With Restaurant, Office & Retail Space for Lease
Tulsa's Premier Shopping Center Location - Tuscana On Yale is the ideal business address offering state-of-the-art office space for purchase or lease in Tulsa, Oklahoma. Our shopping center for lease in Tulsa is located just north of 91st and Yale behind Quik Trip ®. Development plans for Tuscana On Yale South Tulsa Shopping Center also include a retail center divided into individual spaces for lease. This prime retail space will feature two Tulsa restaurant locations that offer an added convenience to the Tuscana On Yale South Tulsa business community. We invite you to become a part of our elite Tuscana On Yale retail and office community and are confident that you will enjoy all of the benefits this Tulsa, OK location has to offer.

If you are looking for retail space in Tulsa, office space in Tulsa, restaurant leasing space in Tulsa, or if your business is expanding to the South Tulsa area, then look no further than the Tuscana on Yale Shopping Center in Tulsa. Tuscana On Yale is the prime location for leasing office space, retail and restaurant space in the South Tulsa and Greater Tulsa, OK areas.

For more information about Tuscana On Yale's commercial real estate for lease or purchase, please contact us today.
Other Walman Commercial and Retail Properties
Walman Commercial Real Estate Services
Tuscana in the News
Shopping action at intersection: Tuscana on Yale construction to start near Whole Foods site
By Kirby Lee Davis
Kirby Lee Davis is the Tulsa Bureau Chief for The Journal Record. Contact him at 918-295-4982
TULSA – After more than two years of discussion and development, construction will kick off next month on the $10 million first phase of Tuscana on Yale, an upscale shopping center developed by Walman Commercial Realty Services.
That promises to bring commercial construction to two opposing corners at Tulsa's busy 91st Street and S. Yale Avenue intersection. For while contractor Rupe Building Co. targets a mid-January start for the 33,700-square-foot Tuscana at the northeast corner, with completion in the third quarter of 2012, Whole Foods intends to open its second Tulsa site in a separate project slated for the southwest corner.
Like many proposed retail centers across the Tulsa area, Tuscana waited on the drawing boards while Walman Commercial Realty worked against lingering 2008 recessionary pressures to secure pre-leasing and financing. With tenant occupancy now near the 60-percent mark and rising, up from 40 percent reported last spring, Rupe President and CEO John Rupe Jr. said the project was finally able to go forward with its first phase.
Designed by architect Larry Wilson of Tanner Consulting, the Tuscan-themed center promises to add new dining and specialty shop options for a neighborhood boasting one of Tulsa's highest median household incomes. That promises a challenge for Rupe, who will complete leased portions for tenants to start business even as he continues construction on second-floor offices and still-unoccupied retail.
"There's a lot of details in everything, from the Italian-style roof to the awnings and all the stonework," he said of the project.
But he doubted passersby will face many interruptions or access issues.
"We're pretty lucky there," he said in a Tuesday afternoon phone interview. "There is a lot of space to spread out our materials in the parking lot as well as the existing pad sites that are not yet build on."
With the start of construction, Rupe Building will have seven projects underway simultaneously.
That's one sign of hope Rupe holds for the coming year, along with the continuing health of Oklahoma's oil and gas industry.
"We kind of look at the architects first and see what they have in the pipe, and the architects that I talk to, they have quite a bit of work," he said. "At least more work than they did last year. That's always a great sign for our industry."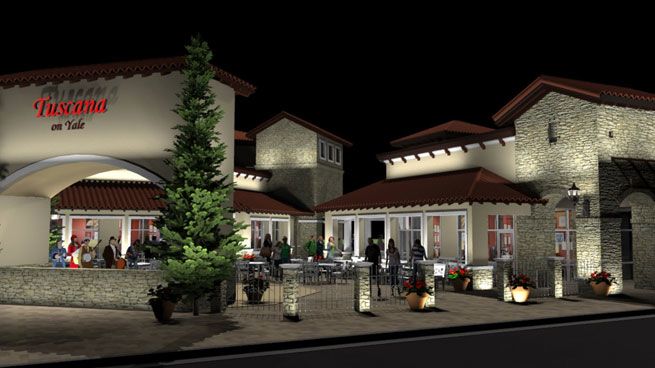 Resources
Spherexx.com ® ~ Apartment Websites, Internet Marketing & Search Engine Performance